Inspirational Quotes
"Jesus Christ lived in the midst of his enemies. At the end all his disciples deserted him. On the Cross he was utterly alone, surrounded by evildoers and mockers. For this cause he had come, to bring peace to the enemies of God. So the Christian, too, belongs not in the seclusion of a cloistered life but in the thick of foes."

- Dietrich Bonhoeffer

from his "Life Together: The Classic Exploration of Christian Community"

Vol. 5, page 27 (1996). Known for his staunch resistance to the Nazi dictatorship,

including opposition to Hitler's euthanasia program and genocide of Jewish people,

pastor Bonhoeffer was accused of joining the plot to assassinate Hitler, and was

tortured and executed at Flossenbürg Concentration Camp, April 9, 1945

For more details on Bonhoeffer's life and his writings, please see

Wikipedia

.



---
Services
Weekly services held on Sundays at 10:30 am.
Worship is followed by a shared community meal.
All Are Welcome: Immigrants, Refugees, Muslims, Jews, LGBTQ.
All are Beloved of God.
Sunday, August 20 - 10:30 am
Worship and Music with Michele Storms, Dan Kramlich and the Bethany Church Community. A shared meal follows thanks to our hospitality team who welcomes everyone into beloved community.


Sunday, August 27 - 10:30 am
Worship and Music with guest preacher, The Reverend M.L. Daniel, John Hansen, Bernice Cade and the Bethany Church Community. A shared community meal follows worship.


Sunday, September 3 - 10:30 am
Worship and the Celebration of Holy Communion, with a shared meal in community.
---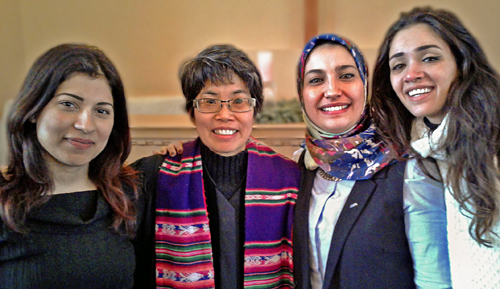 Nusaiba, Rev Angela, Merna, Soykayna, 2016-12-11

Image by Mack Funk

Beloved Community


Pray without ceasing. Bethany Church prays, as we grow beloved community, for all in our community of faith, our neighborhoods, city and country, others countries and all of God's Creation.

We pray for peace amidst war, love amidst hate, compassion amidst despair, courage amidst fear. We pray for all of our sisters and brothers here and around the world, especially all who are sick, lonely, anxious, fearful, struggling, homeless, unemployed and healing and wholeness, grace and strength for the day.

Prayers for the Standing Rock Sioux Tribe protesting the Dakota Access Pipeline that will run through and destroy Native American burial landmarks and sacred spaces of our First Nation People.

Special prayers for our brothers and sisters in Haiti, Cuba, Florida and the Atlantic Coast affected by Hurricane Matthew causing deaths, massive infrastructure damage and numerous people needing to evacuate their homes. Prayers for our sisters and brothers in Syria, especially in war-torn Allepo.


Weekly Events
Sunday - 10:30 am
Worship and Music followed by a Shared Meal in the church sanctuary and hospitality room. Be renewed, refueled, reinvigorated for the week, by the grace of God in growing Beloved Community. All are welcome.
Monday-Friday
ReWA Preschool Head Start Program
For toddlers to pre-K, Half Day and Full Day
Monday
Seattle Young People's Project (SYPP)
Black Out
SYPP and Black Out, led by Nyema Clark, Aimee Josiane and Denechia Powell along with Laura Haldane and Senait Brown.
Working for social justice from our Beloved Bethany Church's modular/annex (aka: The EPI Center).

Tuesday
AA Community Meetings, 7:30 pm
Thursday
Leadership Training for Youth and Young People
Youth Undoing Institutionalized Racism (YUIR)
Ending the Prison Industrial Complex (EPIC) meet in the church annex.
YUIR and EPIC are led by Marcel Purnell and James Williams.
Friday
Refugee Womens' Alliance (ReWA)
Headstart Toddler/Preschool available to children offering free half-day and full day with sliding scale, based on income.
Buddhist gathering for teaching and meditation, 7 pm
Friday and Saturday
Falun Gong, Buddhist and Taoist teaching and meditation.
Saturday
Church and Community Meetings, Gatherings, Discussions and Public Forums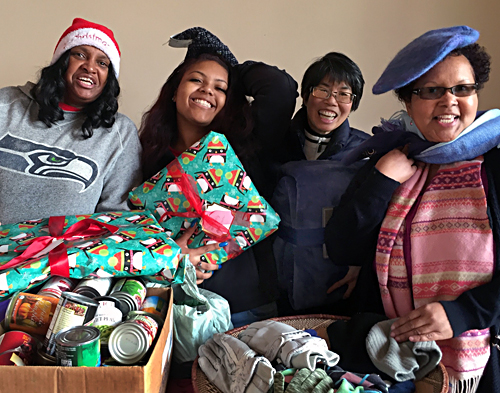 For our neighborhood, the homeless, and for
our sisters and brothers at Standing Rock. 2017-01-14

In 2017, our Seattle Young People's Project (SYPP) celebrates 25 years of transformative youth-led, adult supported, anti-racist community organizing. Youth from historically oppressed communities need a space to call their own, more than ever. Over the past year, SYPP has shared space and built partnerships with other people of color and youth-led, anti-racist community groups based out of the Black Power EPICenter Cooperative in Beacon Hill, on the Bethany United Church of Christ campus. Our current programs include organizing around food, justice, and cooperative economics at our Nurturing Roots Garden, and an intergenerational black, trans and queer organizing project - the Queer and Trans Pan-African Exchange. Support our young people now.


---
About (in Brief)


Bethany United Church of Christ's vision in seeking to be God's Beloved Community on earth, come from the prophetic words of Micah:
What does God require of You? To do justice, love kindness and walk humbly with your God.
Refugees and immigrants welcome here.
No ban. No wall. Stop the deportations.

You are Beloved! I am Beloved! We Are Beloved! All Are Beloved of God!

Each and every one is needed in growing Beloved Community. Please support our social justice and ministry at Beloved Bethany with a donation of any amount to: Bethany United Church of Christ. You and your generosity and kindness are making a difference in our community and around the world. Thank you for giving generously.




NOTE:
Throughout the year, Bethany Church will be leading in "Share the Gift of Love," providing for our neighborhood children. Please bring new, or lightly used, men and women's gloves and scarves. Please let pastor Angela Ying know if you are willing to participate and help.

Thank you.